JANUARY 26, 2020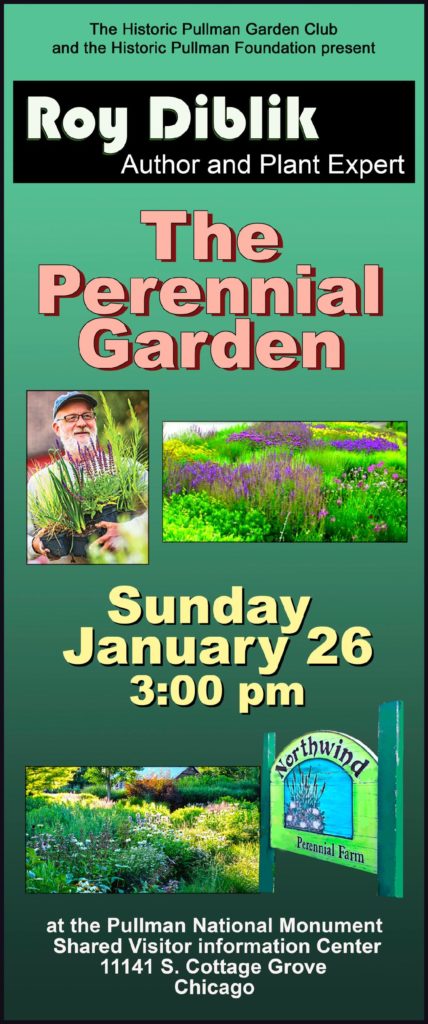 Please join the Historic Pullman Garden Club and the Historic Pullman Foundation for the first of three presentations in the garden club's 2020 Winter Lecture Series:
The Perennial Garden with Roy Diblik, Author and Plant Expert
Sunday January 26, 2020, at 3 pm at the Pullman National Monument Shared Visitor Information Center, 11141 S. Cottage Grove, Chicago IL 60628
This FREE event is open to everyone, refreshments will be served and there will be door prizes.
Hope to see you there! For questions, email historicpullmangardens@gmail.com or visit our Facebook event at https://www.facebook.com/events/2567178346939587/
For more information about Roy, please visit http://northwindperennialfarm.com/landscape/roy-diblik/
FEBRUARY 5, 2020
Please join us for the annual Historic Pullman Garden Club Membership potluck Wednesday, Feb. 5 at 6:30 pm at the Florence Lowden Miller Center, 614 E 113th St. Bring something to share, invite a neighbor, or just bring yourself. We also have this event posted on our Facebook page, so it's on the calendar – feel free to share and invite from there, or forward this email to neighbors. Everyone is welcome!
Membership dues are just $10 and help fund all the plantings we maintain in Pullman, our events and member outings, so make sure to have a little pocket change (or a check) with you.
Questions about the dinner? Email Andy Bullen at ahbullen@gmail.com.